women's rights in Spain History

Let's go back a thousand years, to 1100 AD. The first queen of Spain, Queen Uuaca de León, used gender for her politics to gain the right of her heir during the turbulent times. His reign was from 1109-1126. The prosperity of León and Castile, important to Spain, depended on moving it to achieve a strong alliance. We see in the video below the results of his efforts.

From 1474 to 1504, Queen Isabella of Spain presided over one of the worst atrocities of the
Jewish tyranny that ended in the Inquisition. He strengthened the national power in Spain by expelling and murdering the Jews. At this time, it was the force behind Spain becoming a global power and an important factor in the countries around the Atlantic against Asia. She and her husband, Ferdinand II, paid for Christopher Columbus' voyage to America with three ships and 88 men by soliciting money from Palos. Some may rightfully argue that he is one of the most destructive leaders in history, as his actions had a profound effect on the American people.
Women in Franco Spain
During and after the Spanish Civil War, General FRANCISCO FRANCO and his followers had a clear vision of the real Spain. Underlying the Franco regime's imagined homeland were fundamental Catholic values. These are difficult social roles and restricted rights for women.
Spanish social norms adopted a code of conduct that set sexual norms for women and restricted them from employment opportunities. On the contrary, he respected their roles as wives and mothers. In addition, it prohibits divorce, contraception and abortion. Ironically, he allowed prostitution.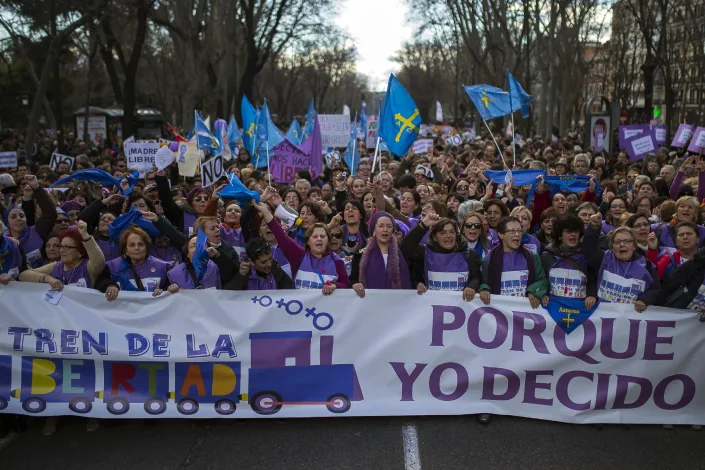 Also, during the Franco years, marriage had to be legal. This means that he will be killed under Roman Catholic law and regulations, even if only one of the people they associate with is Catholic. 
Apart from her husband's support, a woman is forbidden from almost all economic activities, including work, owning property, or even traveling away from home. The Act also includes definitions of crimes such as adultery. In other words, extramarital sex. Abandoning a husband is also considered a crime.
Women in Spain after the fall of the Franco regime
Visible changes began shortly before Franco's death, and they have continued apace ever since. The husband's rights law was repealed in 1975, laws against adultery were repealed in 1978, and divorce was legalized in 1981. After the fall of Franco's regime, Spain took many steps to combat violence against women. However, it was in 1987 that the Supreme Court of Spain agreed that the victim of rape should not prove that he fought to defend himself in order to know the truth of his accusation. Until then, it was generally accepted that a woman who had been raped, unlike victims of other crimes, had to prove that she had "restrained courage" in order to expel the victim. force and not encourage him to act.

Later, in 1992, the Supreme Court decided that sex in marriage should be understood in accordance with the principle of freedom. As a result, the Supreme Court upheld the conviction of a man who was convicted of raping his wife.

Also, globalization has empowered Spanish women. It provided many job opportunities that did not exist when Franco was in power. Famous companies such as Nike, Levis, McDonald's and Coca-Cola have established offices and distribution centers in Spain and created workplaces open to women.
Spain approves paid 'menstrual leave' scheme for women
The Spanish government has given the green light to plans to allow women to take unpaid leave, a first in Europe.
The plan endorsed by ministers is part of a wider package on reproductive rights that includes allowing teenage girls from the age of 16 to have an abortion without the need to get the consent of their parents or guardians.
The government has agreed that the bill must still be approved by the Spanish parliament, a legal process that could take several months.
Spanish government spokeswoman Isabel Rodríguez said the plans represented "a new step for women, a new step for democracy".
feminists' flaming torches
Spain's equality minister Irene Montero, an outspoken feminist in the leftwing government, said it was time for government institutions to "discard taboos, stigmas and guilt regarding women's bodies".
"The days of (women) going to work in pain are over," Montero told a press conference that gave details of the draft health bill following a cabinet meeting.
But the issue is proving controversial. Politicians – including those within Spain's ruling coalition – and trade unions have been divided over a plan some fear could backfire and stigmatise women in the workplace.
Worldwide, menstrual leave is currently offered only in a small number of countries including Japan, Taiwan, Indonesia, South Korea and Zambia.
Italy flirted with the idea in 2016, proposing a bill that would have given three fully paid days off to workers who obtained medical certificates, but the proposal failed to progress before the parliamentary term ran out in 2018.
"It's such a lightning rod for feminists," Elizabeth Hill, an associate professor at the University of Sydney who has extensively studied menstrual leave policies worldwide, told Euronews Next.
The debates around menstrual are often intense, she said, with concern focused on whether such a policy can help or hinder women.
"Is it liberating? Are these policies that recognise the reality of our bodies at work and seek to support them? Or is this a policy that stigmatises, embarrasses, is a disincentive for employing women?"
A REVIEW OF THE FIRST EIGHT YEARS OF SPANISH GENDER VIOLENCE LAW
The eighth anniversary of the implementation of Spain's Law 1/2004, a law that aims to "ensure a unified system of protection against gender-based violence".

The General Council of the Judiciary (CGPJ) has published official statistics for this period, allowing a deeper analysis of the legal effects of the law regarding: a) women, as beneficiaries of the law, b) men. as governed by the law, and c) the police: responsible for implementing the law and its policies. Due to the widespread controversy that has been caused in Spanish society by the adoption of the law, in these eight years, many groups have formed to support it, but many others have risen to question its legitimacy itself, many among them are directly established by the natives. affect the law itself. It is undeniable that this topic is one of the most debated because of the great interest it has aroused among members of various professional institutions, as well as among children's groups. Concerned citizens and general critics of gender-based violence laws. ".
CONCLUSIONS
An analysis of the official Spanish government figures raises two issues: firstly, that in 826,616 cases between 2005 and 2012, the accused, all men, were found to be innocent. And, secondly, that the vast majority of the complaints were based on Article 153 of the Criminal Code, namely that the woman reporting her ex partner had not suffered any physical harm. For these and other reasons, our opinion is that most of the arrests made, almost a million, during these 7 years, could be considered illegal: What is the explanation?
The explanation is found within the constitutional mandates that the police must follow, such as the Protocol for June 2004 and the SES Instruction no. 05/2008. We explain:
Article 104 of our Constitution requires the Police to act as guarantor of the rights and freedoms of citizens and, in particular, to protect victims of crime, and article 24.2 that guarantees the presumption of innocence. Also, as previously pointed out, international law also guarantees the presumption of innocence, as article 14.2 of the International Covenant on Civil and Political Rights and Article 6.2 of the European Convention on Human Rights.
A large number of risk assessments conducted after allegations of gender violence resulted in a "Undeterminable risk" opinion. In Instruction 5/2008 of the SES, it says that "in this case the Police will act with the same measures, operational and care, as for any other type of complainant ", so acting on a complaint without basis or foundation would not be justified and would contravene Instruction 12/2007 of the SES, the technical regulation No. 1/2008 issued by the DAO on Procedures for the Civil Guard units on Gender Violence, which specifies, that to act, there must be a serious risk to the victim – of course complaints must be substantiated by the Protocol for security and Police forces, including coordination with the courts to protect victims of gender violence. Furthermore, the law and the above instructions do require an investigation of the victim, in order to provide accurate and sufficient evidence of the alleged abuse, since the mere word of the complainant, without supporting evidence, is insufficient. Acting with the excuse of protecting the complainant, without signs of abuse or an accompanying risk assessment, is illegal, unfair and unjustified and could lead to accusations of illegal detention under Article 167 of the Penal Code.