Azad Foundation
Azad Foundation is a non-profit organization based in New Delhi and its service area is spread all over India. Although we are a national voluntary organization, we are currently focusing our work with branches in Madhya Pradesh, Chhattisgarh, Uttar Pradesh, Bihar, Haryana and Uttarakhand.
Azad Foundation is driven by a vision of a world where all women – especially women from disadvantaged backgrounds – achieve full citizenship, benefit from dignity, and create wealth. and benefits for all.
Azad Foundation, established in 2008 in Delhi, provides livelihood opportunities for poor women living in rural areas in India, focusing on non-traditional lifestyles that improve economic conditions. and more and more women are making good decisions. Azad Foundation has started programs to support teenage girls in their growing up journey, one of them is the Azad Kishore 9-12 program in Jaipur, sponsored by Dalyan. Azad Kishore provides opportunities for school girls in grades 9-12 to develop their own ideas about personality and nature. This allows them to develop a broader perspective on their lives and useful skills to help them achieve their goals. Furthermore, it exposes these young girls to a non-traditional lifestyle and provides them with information and skills to make appropriate educational choices.
Due to the Covid-19 pandemic and the subsequent financial crisis, many families are no longer able to support their daughters' secondary education. Dalyan supports the Azad Covid-19 Relief Program, which provides 32 graduates of the Azad Kishore 9-12 Girl Leadership Program, so that they can complete their graduate studies and hopefully become role models for their country.
Azad Foundation believes that an organization must have a core of citizens who are active and have the power to make a difference. Many volunteers have done important and critical work in the past to promote the cause Azad Foundation defends. These volunteers come from a variety of backgrounds. For everyone, association with Azad Foundation has been an enriching experience. Azad Foundation maintains regular
Over the last ten years, our activities have expanded into the areas of women education, formal education for children, non-formal education, community service, income-generating skills, SHG training, community health programs and awareness programs. status in various social contexts. These programs focus on poor and marginalized women, poor and adolescent and children in rural and urban areas of Kishanganj district. The AIF journey is greatly indebted to the unwavering support of a large number of friends, sponsors and supporters. communication with volunteers who contribute to the organization.
Mission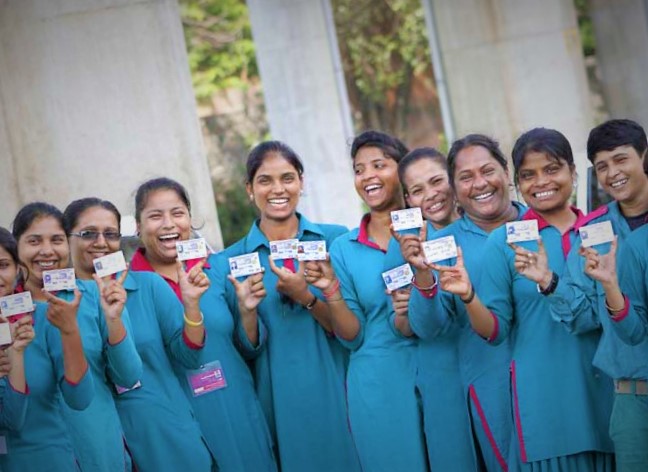 The mission of the Azad Foundation is to provide poor women with the knowledge and skills to succeed as professionals and entrepreneurs, and to earn a living in jobs and markets that are closed to them.
The organization believes that when women are empowered socially and economically, they become agents of change – not only in their lives, but also in their families and communities. Azad works with poor women to empower them:
Think of a new job for themselves
Get the chance to work in a safe and respectful environment.
Improve not only their economic status, but also their self-esteem and dignity
Build a community's income by changing their lives and those around them. Everything the Foundation does is inspired and based on its principles:
They include
They are the world
They show respect and dignity
They take jobs
They are professionals
They are sure that questions will be answered
Educating and empowering women with disabilities
Women on Wheels work with young women, mostly between the ages of 18 and 35, living in slums and slums in cities, with little economic income. Most of them are unemployed or in unpaid work traditionally reserved for women. Many interns drop out of school before completing 12th grade, so their career options are limited. Many have not left their neighborhood and many live in abusive relationships. Azad Foundation India trains women drivers
The Women on Wheels program provides technical training, skills and personal development to better equip women to become fully independent drivers. Once qualified, the female drivers are transferred to our partner company Sakha Consulting Wings Pvt Ltd which provides job opportunities in private driver centers and Sakha Cabs for women by women.\
People who promote change
Training modules on women's rights, protection from sexual harassment and violence, and others are the cornerstones of this program. In addition, we support a network of female drivers so they can support and learn from each other. We also provide access to counselors to ensure women are supported in their journey and have somewhere to go if they experience domestic violence.
We are involved in awareness campaigns that can impact the lives of women drivers in their communities. Azad's drivers and trainers are part of a group of women who advocate for gender equality in India. Thanks to their participation, Azad was able to launch a campaign of one billion to rise in "sixteen days of violence against women" in slums, bastis and many areas of the "middle and upper classes" in Indian cities. where we work. Our drivers and trainees have participated and learned from various campaigns like "Safe Delhi Campaign", "Speak on Corruption" campaign, "Speak on Violence against Women", " I will appear", and d' others.