Saalumarada Thimmakka
There are many women in India who have overcome various weaknesses in life to achieve many things and leave their mark forever. One such woman is Saalumarada Thimmakka whose work was recently recognized by the Indian government with the Padma Shri award. Known as the 'Mother Tree', the 106-year-old blessed the President of India by receiving his award. In fact growing up, after receiving the award, he planted a sapling at the Rashtrapati Bhawan. Thimmakka works for the protection of the environment. At first, she was accused of not being able to conceive, bear children. she ignored the criticism and decided to dedicate his life to nature and the environment.
She is known for planting 385 banyan trees along a 4 km stretch between Hulikal and Kudoor in Karnataka.
Biography of Saalumarada Thimmakka
Saalumarada Thimmakka was born in a low-income family in Gubbi Taluk of Karnataka. Due to lack of education, he worked as an employee. Her husband is Chikkaia from Hulikal village. They tried for 25 years to conceive after marriage, but failed. At one point in his life, when he was about 40 years old, he even tried to kill himself due to depression.
But with the support and love of her husband, they both started planting trees and taking care of them as their own children. He put his love on a tree. They work all day and take care of the plants like their children.
They planted only 10 trees the first year, but he quickly found peace in return. Now, he has found a new purpose in his life. Every year, the number of new trees planted increases. Not only did he leave them, sometimes the two even carried water 4 kilometers to drink the plant to save them. Over time, his interest in plants grew so much that his name was Vriksha Mathe. Her husband died in 1991 but she did not give up her purpose in life. Later, she had a son and continued to live a very simple life and planted more trees.
The story of Saalumarada Thimmakka is full of courage and determination
She wanted to kill herself in her 40s because she couldn't conceive, but she found solace in planting trees with her husband's support. The couple worked hard in the garden during the day, planting trees and taking care of them. Starting with ten trees in the first year, they continued to plant more saplings in subsequent years. Sometimes bringing water more than four kilometers for their crops.
It was indeed a heart-wrenching moment for me to share the story of Thimmakka who made his presence felt in society through his good deeds. Her contribution to society is significant. Remember, like humans, plants/trees are alive, and need to be cared for and nurtured, but this is rare these days. If our ancestors could live without plastic, why can't we? Nowadays, the use of plastic is increasing and people are throwing it everywhere.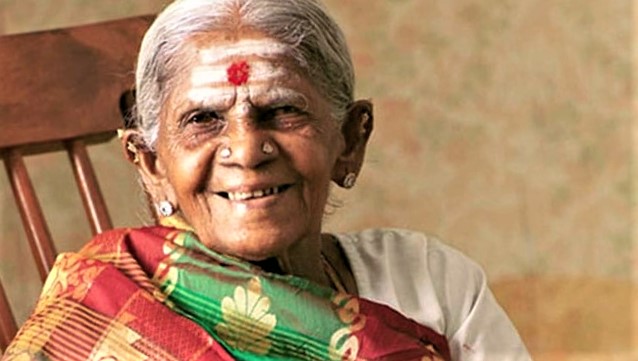 Use plastic to the limit and dispose of it properly. Also plant 4-5 trees every year in your area, so that everyone has a chance to breathe clean air and also have green air. We must follow the footsteps of Saalumarada Thimmakka who without any education brought change by making the society clean and green.
Nowadays, we can't live without a cell phone, we'd rather invest in a charger to watch the net, but we won't buy some trees and plant them in our area. Now is the time for all of us to make a difference while we are young, for a clean and green environment. Resolve to plant at least 4-5 saplings every year and support Thimmakka's "Go Green" movement, and keep your environment clean and green.
Achievements of Saalumarada Thimmakka
Frustrated at not having children, Saalumarada Thimmakka and her husband Chikkaya started making trees as their own children. To overcome the grief of childlessness, Saalumarada Thimmakka made it her mission to plant as many trees as possible which was well supported by her husband Chikkaya. He started growing banyan trees from his village Hullikal in Kadoor.
The trees were planted in a line 4 km long, hence it is called Saalumarada Thimmakka, where the word "Saalu" means sign and "Mara" means tree in Kannada. He planted about 380 trees in total.
Saalumarada Thimmakka followed the daily routine of planting trees and maintaining them despite the poverty and lack of personal help. Every day, while they are working regularly, the couple water the plants, fence them and watch over them. Chikkaya lost her husband in 1991. He takes trees as his children and encourages people and children to plant trees
According to the survey, the value of each tree planted in Thimmakka is around 1,75,00,000 and he does not expect a single penny from the government. He has just received a pension of 500 rupees from the government and he is living on this pension. Saalumarada Thimmakka took care of Umesh when he was a child and today takes care of him. Umesh, following Saalumarada Thimmakka, started planting trees on roadsides, near school parks, etc. He teaches students to plant trees and encourages them. He runs an NGO "Pritvi Bachao" and also donates Banyan trees to farmers and others.
Awards and her work
Saalumarada Thimmakka and his great wood carving work remained unknown until he received the National Citizen Award in 1996. For his achievements, She received many prestigious awards, such as Nadoja Award, Karnataka Kalpavalli Award, Godfrey Phillip Award and Vishwathama Award . Named after Thimmakka's Resources for Environmental Education, a US-based environmental organization. Thimmakka also played an important role in building water reservoirs to save rain in his village. He dreams of building a hospital.