Indian Bollywood Actress Sonam Kapoor
Sonam Kapoor Daughter of Anil Kapoor And Sunita was born on June 9, 1985 in Mumbai, Maharashtra, India from a Hindu family, and now in 2022 she is 37 years old. She is an Indian by nationality.She is the grandson of actor Surinder Kapoor. Sonam's father, Anil Kapoor, is an Indian actor and film producer who founded the Films Company while her mother was a model and producer. Actor Boney Kapoor and actor Sanjay Kapoor are uncles and actress Sridevi is her aunt. Famous actor Ranveer Singh is his cousin. Sonam studied at the University of London but graduated from the University of Mumbai. Sonam is a graduate student in economics and political science.
Education of Sonam Kapoor
Sonam Kapoor's childhood was very "stupid" and "reckless". Sonam started realizing her life after graduation. He enrolled at the United World College of South East Asia in Singapore for pre-university education where he studied film and art. Later, he started his BA in Economics and Political Science at the University of East London, but due to unknown reasons, he returned to Mumbai and continued his correspondence studies at the University of Mumbai. Sonam always wanted to be a director and artist.
Actress Sonam Kapoor's Career

After becoming interested in the film industry, with his father's approval, he worked as an assistant to Sanjay Leela Bhansali. He made his debut in the Bollywood film industry in the movie "Saawariya" in 2007. He lost almost 35 kilograms for his role in the film. However, the film did not do well at the box office and failed miserably. Also, she appeared opposite Imran Khan in the romantic drama "I Hate Love Stories". The film was released in the year 2010 and was Sonam Kapoor's first commercial success. Some critics called her performance in the film her best performance till date. Similarly, Sonam has acted in many other films like Aisha, Merci, Mausam, Players, Bombay Talkies. The movies did well at the box office.
Sonam's big break
Sonam's acting career reached new heights with the 2013 film "Raanjhanaa". Directed by Anand L. Rai, it stars Zoya Haider, a Muslim student who joins politics after her Sikh lover is killed. Likewise, the film became one of Sonam's highest-grossing films and earned $14 million at the box office. He received a lot of praise from fans and critics for his performance. After her big success, she appeared in movies like BhaagMilkha Bhaag, Bewakoofiyan, Kobsurat and Dolly ki Dolly. Sonam showed exceptional skill while acting in these various films. Sonam's next success came from the biographical film "Neerja". Directed by Ram Madhavan, the 2016 biopic features Neerja Bhanot who died rescuing passengers on hijacked Pan Am Flight 73. Sonam did a great job and played the role of Neerja to perfection. Similarly, the film grossed $19 million at the box office and is Sonam's best female lead role. Also, Sonam has done movies like Padman, Sanju, Ek Ladki ko Dekha Toh Aisa Laga, Prem Ratan Dhan Payo, AK vs Ak, etc. Asian actress Sonam has ventured into modeling and has appeared on the cover pages of many national and international fashion magazines.
Facts About Sonam Kapoor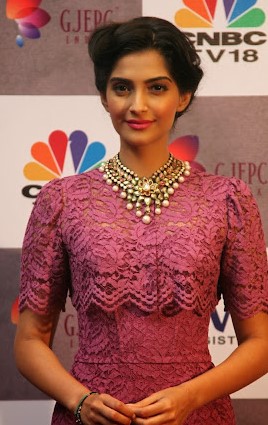 Sonam is a veteran certified artist
Design and acting aside, Sonam Kapoor is always involved in inspiration. The artist liked to move so much that he signed up for a movement class where they performed traditional Indian music. Sonam, today, is a certified traditional actress.
She has time and time proved his greatness by acting in many of his films. Glory and spirit
In what can be called an unusual combination, Sonam Kapoor is a delight for the brain. Not only does the artist stand next to the latest styles and at the forefront of fashion, but also, brings awareness to various political and social issues in world soup. Sonam Kapoor thinks that she is very literate and that type knows the current affairs as well as the social legislative issues. There have been many forms where the artist has been seen standing on different issues, whether on the Internet or in any situation. He is an actor who is known for putting his heart into his hands.
She is passionate
The artist says that from the beginning, he wanted to explore everything that came to hand. She started with books, for example, the Nancy Drew Mystery series and later moved into her mother's books after reading hers. He can read to this day. Sonam's love for books is so deep, that she says that she would have been a writer and curator if she had not become an artist.
Dancing was not at the forefront of his mind
Despite coming from a troubled family, Sonam never thought of becoming an artist. He worked as an assistant director to famous Bollywood actor, Sanjay Leela Bhansali. The artist assisted the chef in his 2005 film "Dark". Bhansali continued to convince Sonam that she was cut out for acting and that she should try her luck in films. He even told him that all his images were like Ajanta paintings. After Sonam convinced him for about a year and a half, he agreed to act opposite "Saawariya", Ranbir Kapoor.
Awards and achievements
She won "Superstar of Tomorrow" at the Stardust Awards for his debut Saawariya in 2008.
SHe won the role of "Best Actor in a Drama or Romance" for Khobsurat at the Stardust Awards in 2015. For the movie Neerja released in 2016, she won few awards in many award ceremonies.
Best Actor at the Melbourne Indian Film Festival, Editor's Choice for Best Actor of the Year at the Stardust Awards and Best Actor (Critics) at the Filmfare Awards. For Padman released in 2018, he won Best Actor in a Leading Role at the DadaSaheb Phalke Film Foundation Awards.