Biography of Shehnaaz Gill
Shehnaaz Gill is an Indian model, actress and singer known for participating in Bigg Boss 13 as a contestant. She works exclusively in Indian TV industry and Punjabi films. Gill was born on January 27, 1993 in Beas, Amritsar, Punjab. Her full name is Shehnaz Kaur Gill. She completed his primary education at Dalhousie Hilltop School, Dalhousie. After that, She obtained a degree in commerce from Lovely Professional University, Phagwara. Gill was interested in singing during her childhood and also dreamed of becoming an actor.
Taking a step closer to her dream, She became a show business after college. She made his debut in the music video Shiv Di Kitaab released in 2015.
After that, in 2016, She appeared in Majhe Di Jatti and Pindaan Diyan Kudiyaan. Apart from that, Gill did special roles in Punjabi films Sat Shri Akaal England, Kala Shah Kala and Daaka.
She joined Bigg Boss 13 in September 2019 as a contestant whose alliance with former actor Siddharth Shukla became famous. He also became the second runner up for Bigg Boss 13.
In February 2020, she joined Colors TV's Mujhse Shaadi Karoge as a contestant, but the show was canceled due to the COVID 19 pandemic. After that Gill worked in many films like Bhula Dunga, Ndo Keh Gayi, Kurta Pajama, Waada Hai and Shona Shona.
In 2021, she appeared in the Punjabi film Honsla Rakh opposite Diljit Dosanjh. His next task is Salman
Khan Kabhi's film Eid Kabhi Diwali in which she could be seen as an actress.
Shehnaaz Gill Carrer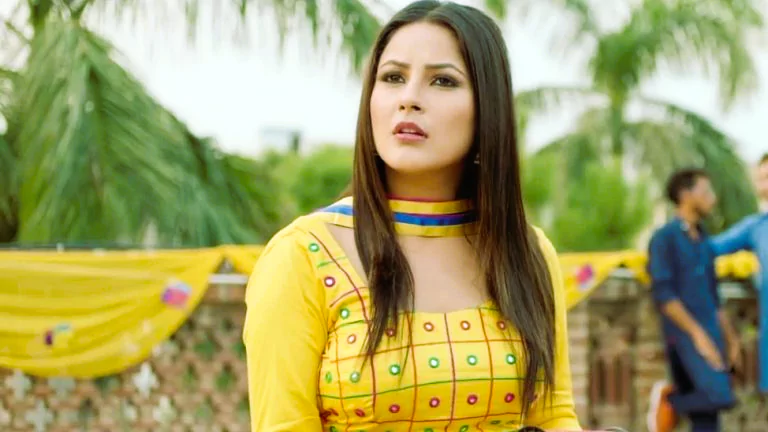 Shehnaaz Gill started her career as a model in the entertainment industry. She made her acting debut in the music video "Shiv Di Kitaab" in 2015. "Majhe Di Jatti", "Pindaan Diyan Kudian", and "Yeah Baby Refix" were among his later music videos.
Sat Shri Akal England, a 2017 Punjabi film, marked his cinematic debut. In 2019, she appeared in the Punjabi film Kala Shah Kala and Daaka. After making it as a popular contestant in the Indian reality show Bigg Boss 13 in 2019, She gained fame in the Indian entertainment industry.
Gill finished the race in third place. His debut song, "Veham", was released while on the show. "Sitewalk", "Range" and "Ronda Ali Peti" were among his later hits. In February 2020, she appeared on Mujhse Shaadi Karoge, but the show was canceled due to the outbreak of COVID-19. Les vidéoclips "Bhula Dunga", "Keh Gayi Ndo", "Kurta Pajama", "Wada Hai", "Shona Shona" and "Fly" in the same way. In 2021, She starred in the Punjabi film Honsla Rakh. At the ET Inspiring Women Awards, she was named "Promising New Face".
Some known facts about Shehnaaz Gill:
She wanted to become an actor since childhood.
She was a student during his college years. Gill keeps his classes and sits in the cafeteria at his university, all day.
She hates cooking. She has participated in many modeling competitions.
She started his tourism business in 2015. She started her modeling career by appearing in the Punjabi music video, Shiv Di Kitaab'.
She has acted in many Punjabi music videos like Yeah Baby, Lakh Laahnta, Yaari etc. He signed in the spot in 2016 after the Sonjabi song, mom gening jatti.
Shehnaz also singles some punjababi, including "Sarpanch" and "Burberry". In 2019, he made his debut in the Punjabi film industry as Taaro with the film 'Kala Shah Kala'.
She participated in the reality show "Bigg Boss 13". In the six months following the finale of "Bigg Boss 13" in 2020, he lost almost 12 kilograms.
In 2020, Kaur appeared in Color's TV reality show "Mujhse Shaadi Karogi" with Paras Chhabra.
In 2020, she appeared in the music video "Bhula Dunga" with Sidharth Shukla. She is dating Siddharth Shukla.
She is passionate about fitness and regularly goes to the gym. He likes cars a lot and he likes to paint with cars.
What is Shehnaaz Gill Net Worth Salary?
Shehnaaz Gill earns his living as an actor in the entertainment industry in India. She is a talented actor who has appeared in more than 200 music videos and Punjabi films. She was rewarded for his appearance in Bigg Boss 13.
She is a singer who has released many songs in addition to being an actress and model. She has also worked as a brand advocate for companies such as Pepsi, Oppo and Vivo. Her net worth is currently estimated at $30 million.