Indian Wrestler – Geeta Phogat
Geeta Phogat in the wrestling field has become a household name today. She has been an inspiration to millions of young women to the extent of their hard work and perseverance.
Freestyle wrestler Geeta Phogat has become the first Indian woman to win gold. She was the first woman to prove her worth at the Summer Olympics. A film based on his life also came in 2016, titled Dangal.
The hero of this movie is Aamir Khan. In Dangal, Fatima, Fatima Sana Shaikh played her childhood role and Jayera Wasim played her childhood role.
Gita Phogat was born on December 15, 1988 in Bhiwani district, Haryana, in the small town of Balali, India. Geeta's life is full of struggles. The best example of how to find a way in difficult situations is Gita Phogat.
Geeta Phogat is the eldest of her sisters, she chose Pahalwani district and made it a good place while trying to eradicate discrimination among girls. The father of Geeta, Karna Maleshwari, is from his life. Since She was a child, he began to be taught by his grandfather, but She was well trained in the scheme, so her father applied for his sports license in India.
Personal life of Geeta Phogat
Geeta Phogat is also a Dronacharya award winning wrestler. Her mother is Shobha Kaur. He has three sisters, Sangeeta Phogat, Ritu Phogat, Babita Kumari and brother Dushyant. She married freestyle wrestler, Pawan Saroha, in November 2016. Geeta's younger sister Babita Kumari won gold medal in Commonwealth Games 2014. Another sister Ritu Phogat won gold medal in Commonwealth Games 2016. Geeta's younger sister, Sangeeta Phogat, is also a wrestler and has collected medals at lower levels.
Wrestling Career of Geeta Phogat
2009 Commonwealth Wrestling Championship

The Commonwealth Wrestling Championship is a great source of pride for any athlete or athlete who participates in it. Geeta started her wrestling journey from the year 2009 and managed to win gold in the competition. The championship was held in Jalandhar, India, and drew huge applause from the audience for his achievement. The player's first-ever victory for the country made her proud and is a real crown for the Indian Wrestling Federation.
2010 Commonwealth Games
The 2010 Commonwealth Games was a turning point in his career as he defeated some of the best players in the tournament. Geeta Phogat dominated the competition in the final and managed to win the gold medal by defeating the Australian wrestler. Geeta Kumari Phogat won over people as the competition was held in Delhi in 2010.
2012 World Wrestling Championship
The 2010 Commonwealth Games was the second leg of her success, where Geeta won the bronze medal. After winning gold at the 2009 Commonwealth Games, Geeta was very confident of winning a medal and finished third after losing to Japan's Saori Yoshida. Geeta secured third place by beating Natalya Sinishin from Ukraine. The competition was tough for Geeta but she managed to perform well throughout the competition.
2013 Common Wealth Wrestling Championship
The competition was held in Johannesburg. Geeta Phogat has enough experience to easily defeat her opponents. One of the most experienced and skilled wrestlers finished second and won the silver medal for the country. He competed in the 59KG wrestling category and dominated the competition in the finals. The final match was between Geeta and Oluwafunmilayo Adeniyi Aminat of Nigeria. Geeta missed the final and won the silver medal.
2015 Asian Wrestling Championships
The 2015 Asian Wrestling Championships was Geeta's last tournament in her career. Geeta Kumari Phogat is impressive in her work and it is her choice that can get another gold. The tournament was held in Doha and had strong competition for success throughout. Geeta managed to win the bronze medal in the 58KG freestyle competition.
Her father Mahavir, a former wrestler himself, forced Geeta to fight with wrestlers to improve her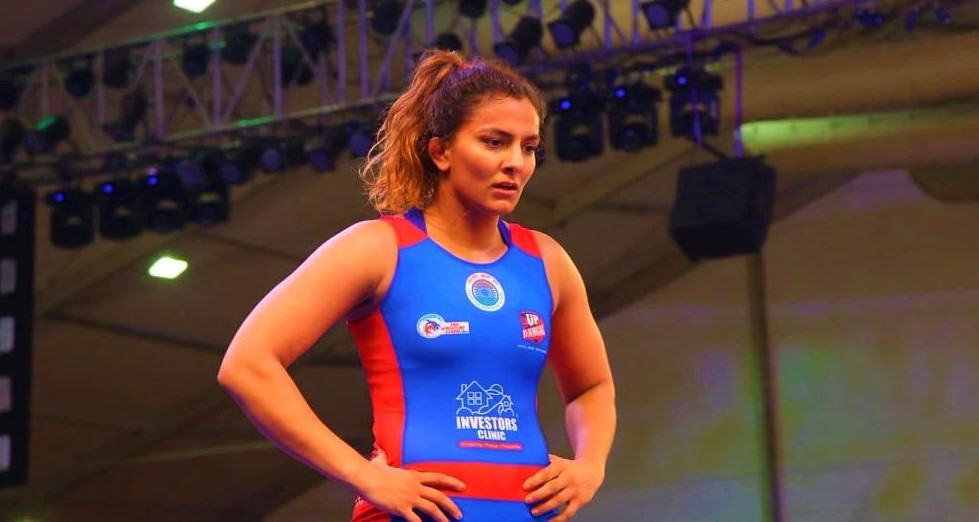 Her training in the early years was tough and demanding that her father ensure that Geeta and her sister Babita would wake them up at 3:30 in the morning and fish and train for three hours. After this, they will go to school, come back and train again for 2-3 hours at Khada.
Geeta, in a recent interview, said that her father will be the only thing she and her sister will see at this point in their lives.
According to Geeta, those 5-6 years were the hardest part of their lives, because their father wanted them to keep working hard and the idea of ​​slowing down "didn't exist in his dictionary".
Competing in the 55kg wrestling category, his gold medal at the 2009 Commonwealth Games in Jalandhar, Punjab brought him to the national level when he qualified for the 2010 Commonwealth Games in
Geeta Phogat's Achievements
Won a gold medal in the Commonwealth Wrestling Championships, held in Jalandhar, Punjab, in 2009
She won India's first gold medal in women's wrestling at the Commonwealth Games, held in New Delhi, in 2010, defeating Australia's Emily Bensted in the gold medal.
Phogat won the gold medal at the FILA Asian Wrestling Qualification Tournament held in Almaty, Kazakhstan in April 2012. At the 2013 Commonwealth Wrestling Championships held in Johannesburg, South Africa, Geeta finished second, bagging a silver medal in the women's 59 kg freestyle category.
Geeta won the bronze medal in the 2015 Asian Games, held in Doha.