Manasi Joshi's Biography
Manasi Girishchandra Joshi is an Indian para badminton player, who won the gold medal in the women's team at the 2019 Paralympic Games held in St. Jakobshalle in Basel, Switzerland. At the age of six, She started playing badminton with his father. Her father is a retired scientist from Bhabha Atomic Research Centre. Due to his interest in badminton,
She continued her sport and won many medals in Para-Badminton
Mansi Joshi was born on June 11, 1989. She is an Indian badminton player. These are counted among the top 10 SL-3 category para badminton players in the world. Mansi has been playing badminton since the age of six. Mansi's father's name is Girishchandra Joshi. Her father is a retired scientist from Bhabha Atomic Research Centre. Mansi graduated in Electronic Engineering from J Soma College of Engineering, Mumbai in 2010. Mansi has a brother who is also a badminton player.
International Carrer of Manasi Joshi
Soon, Manasi started playing badminton well and added many medals and titles to her kitty. Her first success came in 2014 when She won silver in the national level competition. With this victory, She participated in his first international competition in Spain. She received financial support from Malcolm and the Welspun Group.
Manasi competes in the "Standing Lower SL 3" category in para-badminton. In this case, the player must stand up and have injuries to one or both lower limbs and poor balance. Her debut performance at the 2015 World Para Badminton Championships was truly brilliant as She walked away with a silver medal. In the next edition of the League, in 2017, She won the bronze medal.
She also won a bronze medal at the 2018 Asian Paralympic Games in Jakarta, Indonesia.
In 2019, Manasi won the gold medal at the Para-Badminton World Championships. With the Tokyo Paralympic Games approaching, this win gave him a big boost. She beat three-time champion Parul Parmar to claim the top spot in the tournament held in Basel, Switzerland.
The Story of Manasi Joshi
Manasi Joshi's story is one of courage and determination. After losing her left leg in an accident in 2011, Manasi took up badminton to stay in shape. Although She started playing the game at a young age, it was not what he thought of as a career. She works as a software engineer and badminton became a way for him to stay fit despite sitting at a desk every day. "I started playing badminton when I was 8-9 years old. After the accident, what motivated me in the sport was to keep working hard. I had a desk job and wanted to stay in shape but gradually it became my passion. Joshi told the media in an exclusive phone conversation.
Her game began to improve with time and although he was not selected for the 2014 Asian Para Games, the journeyman did not lose hope. She came back strong the next year and won silver in mixed doubles at the International Para-Badminton Championships.
She went on to win titles in various competitions around the world and in 2018, She won a bronze medal at the Asian Para Games held in Jakarta, Indonesia. However, the biggest feather in her cap was her victory in the final of the recently concluded International Badminton Championships, where she defeated her compatriot Parul Parmer in the women's SL3 category.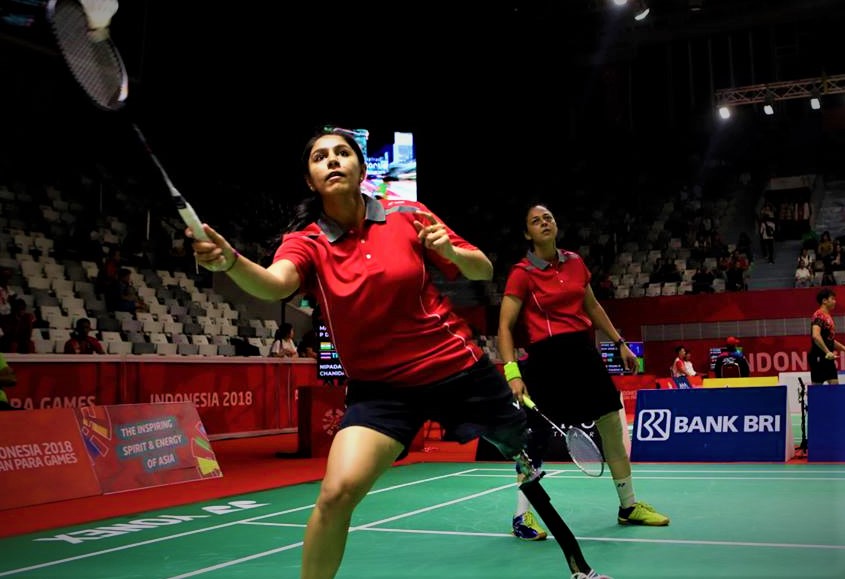 "I'm happy with the result. Honestly, I was surprised but I was also prepared for this. I knew the results would be better than previous years but I didn't expect to get gold. Even before the final round, I was confident of reaching the final but a gold medal is still a distant dream," She said.
It was not easy for Manasi Joshi as her record against Parul Parmer was a cause of great concern.
These two players have met each other thrice this year and Manasi Joshi has been beaten thrice.
The controversy on the plane in Basel (Switzerland) seems to be going in the same way as Manasi Joshi went 2-7 in the opener but this time they have other plans. The journeyman fought hard to win the first game and an almost flawless performance in the second game helped him win the match 21-12, 21-17 and also his first international title.
"My record against him (Parul) has always been disappointing but I am confident that I can beat him. The fact that I finally faced him came with added pressure, but I thought I was ready. In the first game, I was a little worried.
But once I won the first match, I was confident that I could win the match, that helped me a lot," She explained.
Before the tournament, Joshi trained at Gopichand Academy where National Coach Pulella Gopichand and Jakkampudi Head Coach Rajendra Kumar created a special training schedule for him. It was very different from his usual schedule and Joshi felt it made a big difference in the tournament. "My time at Gopichand Academy was very beneficial for my game. I was playing a lot of tournaments so I decided to take a break for a month. Gopi sir and Rajendra sir have recommended me a training regimen and are paying a lot of attention to my physical condition. I have three sessions – on the field, outside and finally playing against whoever is available."
"There is also a dedicated fitness trainer who works on my health and fitness. My goal is to be in top shape before the competition and that has helped me a lot in my campaign," She added. The response on social media was huge as fans were happy with his performance. Overnight, her Twitter followers increased almost six-fold and his social media posts were flooded with compliments from across the country.