Shafali Verma's Biography
Shafali Verma is an Indian cricketer. She plays for the Indian women's national cricket team. Her unit defeated England by seven wickets to win the U-19 T20 World Cup on January 29, 2023. Her parents are Praveen Bala and Sanjeev Verma. Shafali became the youngest cricketer to score 1000 runs in T20 Internationals on October 8, 2022.
Early Career of Shafali Verma

Despite his father's support and ridicule from others, Verma's biggest motivation to take cricket seriously was his idol, Sachin Tendulkar who traveled to Rohtak in Haryana for his last Ranji Trophy match. Among the large stream of people who came to see the legend, Shafali was one of them and was amazed. She had his mind focused; She wanted that.
This was followed by years of practice with Sanjeev's father and brother, honing his swashbuckling skills that earned her a spot in the Haryana U-19 squad. She was only thirteen years old. The dream of playing for India came true. The next two years were the platform from which Shefali would rise. She did not rise, She shines like a star.
Home season, a year later the machine has collected 1,923 runs, including 653 willows.
This included 265 runs in the Women's T20 League, where she finished as the top scorer despite Haryana not qualifying for the knock-out. The highest of those hundreds was 128 smashed from 56 balls, the third highest in women's cricket. enough
This huge effort will not be in vain.
Her performance was noted with a six-strike ability and she was selected in the 2019 Women's T20 Challenge for the IPL run in May. Being an important part of the team's pace, he scored a 31-ball 34 with Danielle Wyatt (46 off 35) and led the team to victory over the Trailblazers.
Cricket career of Shafali Verma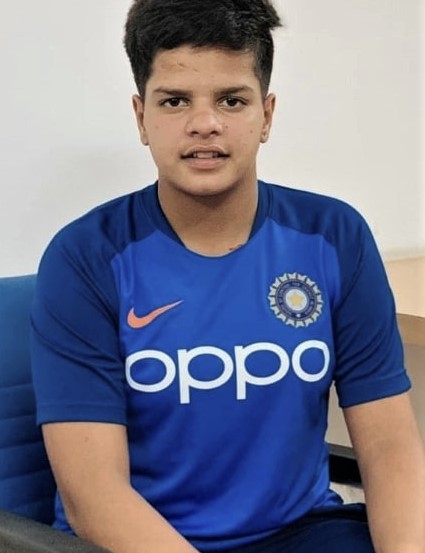 Shafali Verma was so fond of cricket since childhood that when she did not find a cricket school for girls in her hometown Rohtak, she played cricket as a child.
Shafali's debut in WT20I Cricket
She was first included in India's International Women's Cricket in September 2019, aged just 15. But she made her Women's Twenty20 International (WT20I) debut on September 24, 2019 against the South African Women's team.
And after that, she was selected for ICC Women's T20 World Cup which will be held in 2020, in which she performed well and became the first batsman in ICC Women's T20 cricket. And so far, Shafali has scored 700 runs in 29 T20I matches with a strike rate of 141.
Debut of Shafali's In WODI & Test Cricket
She is in ODI Women's International cricket and Test cricket at the same time, she played her first test match on 16 June 2021 against England women's team in which she scored 96 runs and was the player of the match. After that, She did it one day
ICC T20 World Cup
Finally, it was a stage to bring out the young man's sword skills. It is the Women's T20 World Cup. But he became the "Rockstar" of the Indian team.
India have strong opponents and holders against hosts Australia. In the first at-bat, Shafali struck a blow. She scored 29 runs from 15 balls, smashing Megan Schutt for four boundaries in the end. It is a sign of things to come. India beat Australia by 17 runs to start the winning streak. India's second match was against the unbeaten Bangladesh. After India defeated Taniya Bhatia, Shafali fought with Jemimah Rodrigues in the anchor role. He got the better of Jahanara Alam, who was smashed for 2 sixes in the boundary.
Hitting 2 fours and 4 sixes, he scored 39 off 17 with a strike rate of almost 230! That was enough to earn him his first World Player of the Year award. India, despite losing wickets all the time, scored 142/6 and won by 18 runs.
There were a few mistakes from the team as a whole, but Shafali was at his best. He continued to score, scaring the bowlers with his strokes with aplomb.
Her 46-for-34 innings against New Zealand was what tipped the match in India's favour. Despite being short of breath, the innings was packed with punch with 4 overs and 3 sixes.
She improved that with 47 runs off 34 balls in a 114-run innings against Sri Lanka and became the top scorer in his side. India are in the semi-finals and will face England. They will be impressed with Shafali who is the team's top scorer with 156 runs at an average of 39.
Shafali Verma is celebrating her birthday
Indian captain Shafali Verma also celebrated his 19th birthday on January 28. Verma has experience playing in the finals. "Haan bahut finals khela hai (Yes, I have done many competitions and seen it all)," Shafali said on the final evening. "It's about getting out there and enjoying the game. I told the team "Don't stress, give your 100% without thinking about the final".
Just believe in yourself," he added. "Everything has passed and cannot be repeated, we are determined to bring the World Cup this season and try to improve every day. We have a period of panic and we can't sleep, wondering if we can make it to the end or not. But we learned from our mistakes and look at us. Now that we are all brave, leave us to our work. Everyone likes each other and is nice, we don't think much. I may outnumber most of them but I told them 'in the playing field we are all equal' it's to make everyone happy," said the Indian skipper.