About Babita Phogat
Babita Phogat is an Indian freestyle wrestler. Babita Kumari Phogat started gaining attention after winning the silver medal at the 2010 Commonwealth Games in Delhi. It is also one of the best India's best redemptions.
Babita Kumari Phogat (Babita Phogat) is an Indian wrestler, who won a gold medal at the 2014 Commonwealth Games. She also won a silver medal at the 2010 and 2018 Commonwealth Games and a bronze medal at the 2012 World Wrestling Championships. Her sister Geeta Phogat and cousin Vinesh Phogat also won Commonwealth Games gold medals.
She was born on November 20, 1989 in Bhiwani, Haryana. Ritu Phogat and Sangita Phogat are also wrestlers. Babita married Indian wrestler Vivek Suhag in November Recently, Babita entered politics by joining the Bharatiya Janata Party (BJP). Her father Mahavir Singh Phogat was a wrestler, coach, politician and Olympic coach.
Bollywood movie Dangal is based on the life of Mahavir Singh Phogat and his children's life journey to achieve success. Dangal is directed by Nitesh Tiwari and produced by Aamir Khan.
Babita's The beginning of life
Orthodox beliefs in the village prevented girls from participating in wrestling. Mahavir Singh had to withstand a lot of ridicule and opposition from his peers and neighbors. Still, the desire to see her daughters succeed kept her going.
For Geeta and Babita, the fight was a little different. They will do what their father expected, and on the other hand, their friends and relatives rule over them.
However, for the Phogat sisters, quitting is not an option, especially since their younger sisters and nieces, who also want to become wrestlers, have started looking up to Geeta and Babita as their role models. And so the struggle continued for both of them.
When Geeta goes to the field against the boys and forces them under time, Babita learns the tricks of the trade from her father and elder sister. She trained Geeta, who was older and more experienced than him, which helped Babita improve her wrestling. Soon, following Geeta's footsteps, Babita also became a national champion.
Carrer of Babita Phogat
In Jalandhar, Punjab, the Commonwealth Wrestling Championship was held in 2009, in which She won the gold medal in wrestling under 51 kg weight. In 2010, She also won a silver medal in the Commonwealth Games held in Delhi. These benefits proved to be a positive change in his career.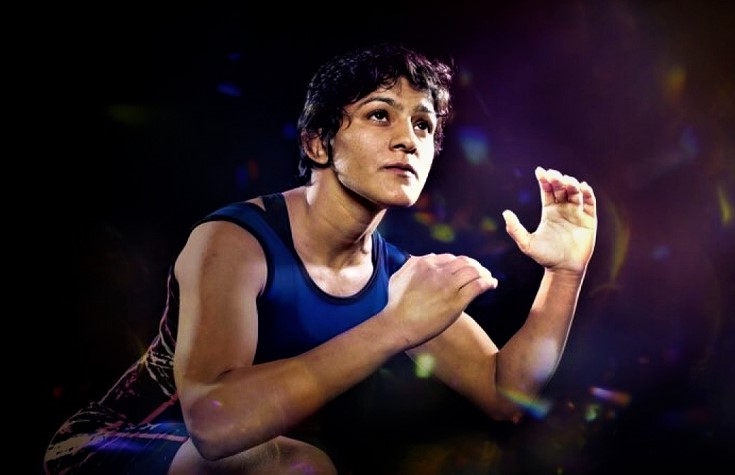 With this, She also received a bronze medal at the 2012 World Wrestling Championships. At the 2011 Commonwealth Wrestling Championships, Babita Fogat won the gold medal in the 48kg freestyle. Babita Kumari won the 2013 Asian Wrestling Championships in Delhi in the 55kg category with Han Kum Kum in North Korea.
The year 2014 had a new dimension to his achievements, beating his competitors in the 2014 Commonwealth Games by 4:1 of his competitors in the 55kg freestyle wrestling match. She came back in the semi-finals beating Lyssa Porogovska of England, and won the gold medal with 3:1, and won the gold medal beating Canada's Britney Laverdre.
At the 2014 Commonwealth Wrestling Championships, Babita was unable to repeat his win. He won the bronze medal of the tournament. At the 2015 Asian Wrestling Championships, Pak Yong-mi of Korea defeated Babita Kumari in the last five seconds and lost her chance to reach the final.
She represented India with his cousin Vinesh Phogat in the Rio 2016 Games, held in Rio de Janeiro. She is India's third and final entry for the Olympics. He failed a doping test during the qualifying tournament. She won in the first round 1-5.
Some interesting facts about Dangal Girl
"First of all, my idol is my father. He is a real star and a real hero. And after him, Sushil Kumar is my idol.
She encouraged me after I won a medal in 2008 (at the Beijing Olympics)," he told Deccan Chronicle. Babita was very happy with her on-screen portrayal of Saniya Malhotra in the movie Dangal.
Aamir Khan's film covers the entire journey of the Phogat family and how they bring a new charm to the struggle.
Babita and her sisters were given roles in the film.
However, they don't want to risk losing focus and rejecting the offer.
Babita was not allowed to grow hair because her father thought it was a distraction.
She always wears a pixie haircut. "Dad says it's a distraction. He says if you want to take care of hair and fashion, leave the fight," he told the Guardian. Babita's favorite activities include running and hiking.
Babita wants to create an educational institution for struggling girls.
She knows that many girls don't have the opportunities she has. Although there has been a lot of progress in the last few years, girls are not allowed to make their own decisions. Babita wants to help in his own way in this.
Babita has participated in several activities during the elections in Haryana.
She used his popularity to encourage citizens to vote.
In the future, Babita wants to be a wrestling coach.
Babita Phogat – awards and achievements
Babita has received various awards and honors during his career. Some of the awards he received are:
Arjuna Prize – 2015
Gold Medal – Commonwealth Games, Jalandhar, 2009
Silver Medal – Commonwealth Games, Delhi, 2010
Sixth place – Dave Schultz Memorial Tournament, 2010
Gold Medal – Commonwealth Games, 2011
Bronze – World Championships, Strathcona County, 2012
Bronze Medal – Dave Schultz Memorial Tournament, 2012
Bronze – Asian Championships, Delhi, 2013
Gold Medal – Commonwealth Games, Glasgow, 2014
Silver Medal – Dave Schultz Memorial Tournament, 2014
Silver Medal – Commonwealth Games, Goldcoast, 2018